Valve Technology
Our continuous involvement with valve technology has resulted in the development of reliable analytical models, design improvements, and innovative solutions to persistent valve/actuator problems that have defied the industry for decades. Our expertise spans from the conceptual stage through detail design, analysis, prototype development, testing, manufacturing; troubleshooting; and root cause analysis of valve and actuator problems.
Valve Engineering Capabilities
Valve research and development
New valve designs for demanding applications
Valve and actuator mechanical testing
Qualification of valve designs to meet structural and performance specifications
Analytical models to predict valve performance under conditions difficult/expensive to test
CFD analysis to quantify forces and moments on valve internals
Valve/actuator design modifications
Valve analysis per ASME and API code requirements
Plant-wide application reviews and development of preventive maintenance programs
Valve Engineering Examples
Analytical models to predict performance of motor-operated, air-operated, and hydraulically operated gate, butterfly, and globe valves, safety relief valves, and check valves
A patented Sentinel gate valve to provide tight shut-off and eliminate degradation in critical nuclear power plant applications
A tapered plug valve that eliminates taper locking of the plug under rapid hydraulic transients
Bending moment valve testing to determine internal distortions as well as structural and performance capabilities under simulated piping loads
Wear and fatigue models for check valves to prevent failure and to prioritize maintenance
A low impact, gaseous cryogenic pressure relief valve with modulating pressure control for NASA's ground support facilities
A miniature high temperature, high pressure, low noise throttle valve for underwater propulsion systems in defense applications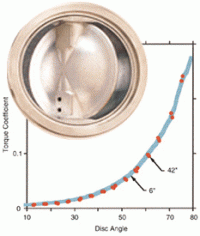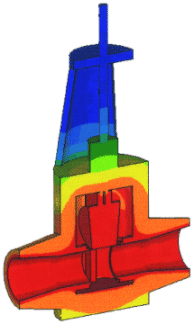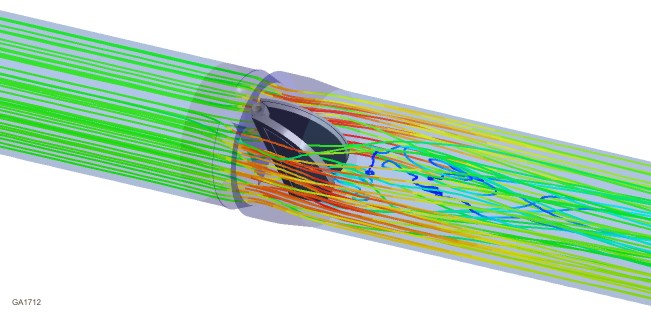 The velocity streamlines for a 24-inch double-disc check valve illustrate the flow field predicted using the k-e RNG turbulence model. The CFD model was used to calculate the flow-induced torque based on the check valve disc position and flow rate, as well as the oscillation in pressure force due to flow-induced disturbances of the upstream pump.