Kalsi Seal Related Training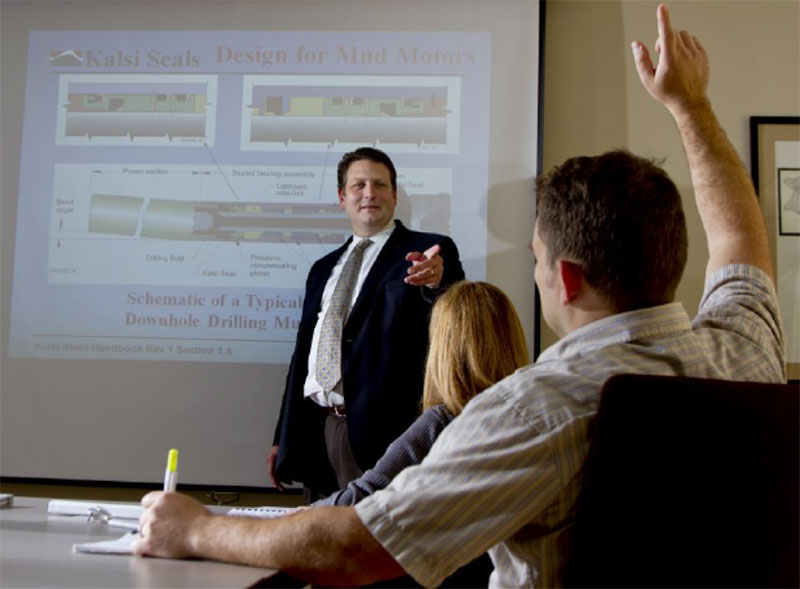 Kalsi Engineering offers training to customers on various aspects of rotary shaft sealing. Most of the training classes fall into two main categories: application engineering and recommended shop practices. We also offer a class that provides a general overview of our rotary shaft seal product line, and the specific issues various products were designed to address. This helps your engineers understand and differentiate between products, so they are better able to select the right product when a need arises. We offer these classes at no cost, because our success depends on your success. Contact us for more information.
We tailor the engineering and shop classes to the needs of the customer, and often host the classes at the customer's site to minimize the impact on employee schedules. To further conserve employee time, most training can be presented in the form of a "lunch and learn" session. If desired, shop training can be worked around technician break times. As alternatives to on site training, we can also provide the training at our facility, or via web conferencing. If you elect to have training at our facility, we hope you will also arrange time for a facility tour, to witness the factors that set us apart from other seal manufacturers.
Shop training classes are typically limited to 40 minutes, and primarily focus on disassembly, component inspection, and reassembly issues that can impact seal life and reliability. To the extent needed to understand the basis of our recommendations, an overview of how the seals function is also provided.
Engineering training classes typically range from three to four hours, depending on group size and the type of equipment being discussed. Typical topics include shaft running surface and installation path considerations, seal gland design, lubricant reservoir considerations, environment considerations, differential and ambient pressure considerations, heat transfer considerations, extrusion gap clearance considerations, and bearing guidance considerations. A description of basic seal operating principles is also provided, to foster an understanding of the reasons behind various recommendations. Depending on the type of equipment and environment being discussed, an introduction to the use of outboard barrier seals may also be included in the training.
Training is available on the following topics:
Additional training classes can be developed to address the specific needs of your organization.