Kalsi Seals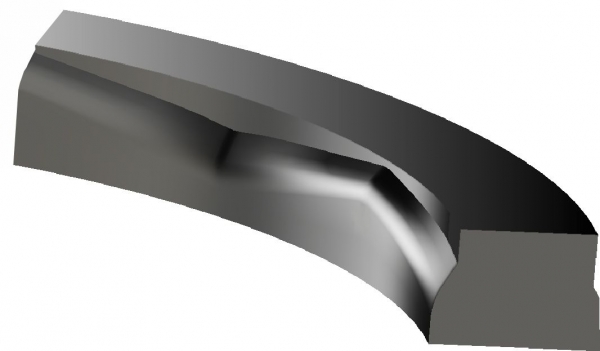 Hydrodynamic Rotary Seals
Kalsi Seals are a family of patented, one-piece rotary seal designs that provide hydrodynamic lubrication to minimize seal and shaft wear, and to accommodate high differential pressure. They are used for lubricant retention and contaminant exclusion. They were originally developed for the harsh and unforgiving oilfield downhole drilling environment, and provide an effective solution to the severe service conditions found in many different industries.
Contact us today to learn more about our hydrodynamic rotary seals.
Kalsi Seals are providing fluid sealing solutions in both low and high pressure applications, such as:
High speed drilling and coring swivels
Rock drilling machines
Slant hole drilling swivels
Power swivels
Oilfield vacuum truck agitators
Industrial slurry mixers
Machine tools
Blast hole drilling
Gun drills
How Kalsi Seals Work… Kalsi Seals are installed in a housing groove and compressed against a shaft, and seal statically in the same manner as other interference-type seal designs, such as O-rings. The dynamic sealing lip incorporates a wavy hydrodynamic edge on the lubricant side, and an abrupt circular exclusionary edge on the environment side. When rotation occurs, a thin lubricant film is hydrodynamically wedged into the dynamic sealing interface by the waves. This hydroplaning effect lubricates the seal and shaft, preventing the typical dry rubbing wear, high running friction and heat associated with conventional seals, allowing higher pressure and speed combinations and providing long life.
When rotation stops, the hydrodynamic lubricating action stops, and static sealing is reestablished. To better understand our unique seal designs, click here for a slow motion animation of hydrodynamic seal lubrication.
Features and Benefits of Kalsi-brand rotary shaft seal designs
Hydrodynamic lubrication reduces seal and shaft wear, running torque, and seal-generated heat, and permits higher pressure and speed combinations.
Lip design excludes environmental abrasives.
Suitable for transient conditions that cause mechanical face seals to fail or leak excessively, such as frequent starts/stops, pressure fluctuations, shock and vibration, and temperature changes.
Compact, one-piece seal design is installed in a simple O-ring type groove.
Rotary Seal Selection
Kalsi Seals are available directly from Kalsi Engineering in an assortment of styles and materials to address various operating parameters. For lists of available styles and sizes, see our shaft seal catalog. For detailed information about using Kalsi Seals in your rotary shaft seal assembly, visit our literature page. Seals are stocked in diameters ranging from 0.394″ (10 mm) to 17.500″ (444.5 mm). Custom seal diameters and cross-sectional sizes can also be provided if desired.
Product Background
Kalsi Engineering, Inc. was established in 1978 to provide mechanical consulting engineering services, and is recognized worldwide for technical excellence. The founder of the company, Dr. M.S. Kalsi, was the manager of R&D for an oilfield equipment manufacturer prior to starting Kalsi Engineering. He first became interested in elastohydrodynamic seal lubrication while pursuing his graduate degrees, and his fundamental research led to the basic Kalsi Seal design. Since then, the company's application experience and continued commitment to hydrodynamic seal research have resulted in many innovations that continue to enhance rotary performance and expand our product line.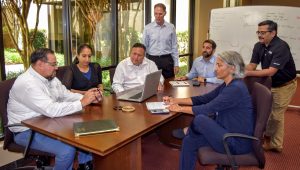 Seal Application Support
Detailed technical information, including installation dimensions, is provided in the Kalsi Seals Handbook™, available on the literature page. Experienced Kalsi Engineering personnel are also available to provide technical support. If you would like Kalsi Engineering to review your rotary seal application, please download an application questionnaire in PDF or Word format, and e-mail or fax to us at 281-240-0255. Alternately, you can e-mail us with your rotary sealing questions, or call us directly at 281-240-6500.
Consulting Engineering Services
Computer-controlled rotary test fixtures are available to evaluate seal performance with customer-specified lubricants, process fluids, temperatures and other application-specific conditions. Comprehensive engineering services are also available.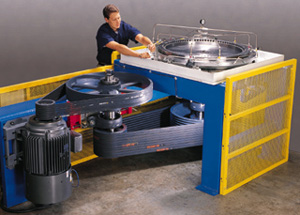 Continuing Seal R & D
Kalsi Engineering's research and development mission is continual product improvement directed at the needs of new and existing rotary seal markets. Products are developed and refined using state-of-the-art analysis techniques and rigorous testing. The performance of existing rotary seal products is also continually being evaluated in our well-equipped laboratory. Customers are invited to visit our facilities, to discuss the latest technology.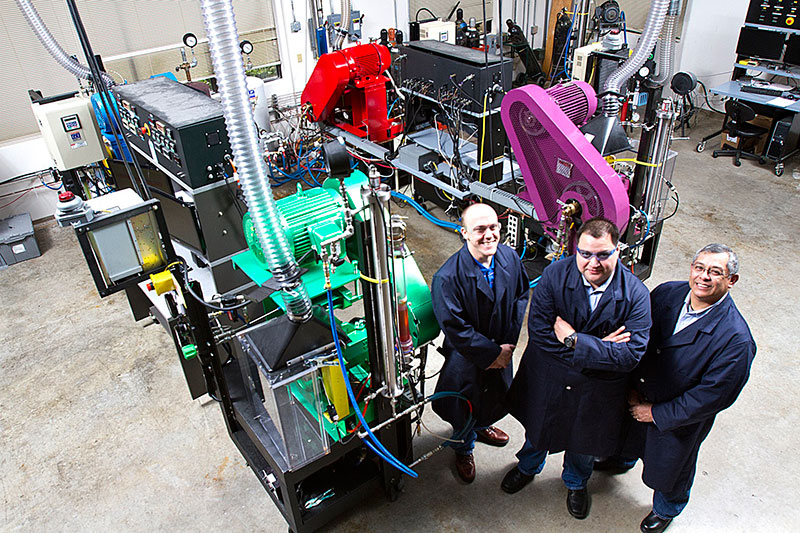 Kalsi-brand fluid seals are offered for sale under the terms and conditions of the "Offer of Sale" that is included in the current revision of the Kalsi Seals Handbook.
The Kalsi Seal family is here to support you with your most difficult rotary sealing challenges.