Flow Loop and Mechanical Testing

The Kalsi Engineering testing facility is located in the Houston, Texas metropolitan area and includes the capability to perform flow loop testing and a wide range of electro/mechanical testing.
Flow Loop Testing
The Kalsi Engineering flow loop was especially designed to investigate flow-related problems with valves used in typical power and process plant applications. The main hydraulics section consists of a rapidly reconfigurable test section piping, a 7,500-gallon reservoir, a 180 HP diesel engine-driven variable speed centrifugal pump, and all associated piping for the actual test sections. The flow loop is capable of delivering 2,700 gpm and 270 psig. This flow rate corresponds to a flow velocity of 30 feet per second in a 6-inch pipe.
The flow loop facility is used to perform flow coefficient (Cv) and liquid pressure recovery factor (FL) testing according to ISA S75.02 and other standards. Kalsi Engineering has used the facility to perform several flow loop test programs critical to the US nuclear industry including flow loop testing to determine check valve wear and fatigue, butterfly valve required torque, and globe valve required thrust.
Mechanical Testing
The electro/mechanical lab is routinely used to evaluate performance characteristics, life, and degradation of mechanical/structural equipment, hydraulic/rotating machinery, pressure vessels, and piping components. The laboratory is equipped with several digital data acquisition systems and instruments for pressure, flow, shock, vibration, temperature, and strain measurements. To meet our clients' needs, we also provide on-site support to perform instrumented tests in the field when required.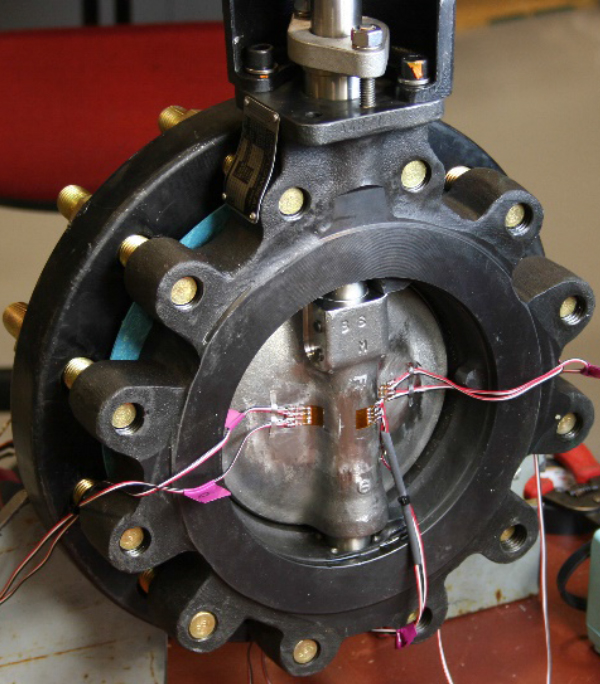 Structural integrity, fatigue life, and performance qualification testing
Strain gage testing
Shock, vibration, impact, and seismic testing
Friction, wear, lubrication, and galling testing
High pressure, elevated temperature testing
Unique test fixtures to simulate performance of complex systems
On-site support for field testing
Prior Projects
Field measurement of transient dynamic stresses, accelerations, and impact energy in casing connectors under hammer driving loads
Bending moment, axial load, and torsional load tests on pipe, connectors, flanges, and valves to determine structural, sealing, and operational limits
Evaluation of various dynamic seals, such as mechanical face seals, elastomeric lip seals, plastic seals, and proprietary design seals, to determine operational limits
Flow tests to determine Cv, choking, and cavitation characteristics of valves of different designs and manufacturers
High pressure, high temperature tests to qualify components for the oilfield downhole environment
Seismic qualification of valve and actuator assemblies, downhole tools, and electromechanical equipment to meet client specifications or IEEE Standards