Kalsi Engineering — Rotary Shaft Seal Catalog
A Catalog of Rotary Shaft Seal Styles and Sizes
Kalsi Engineering's rotary shaft seal product line consists of several patented styles that address a variety of sealing challenges. For the most up-to-date lists of available styles and sizes, click on the catalog links below. For technical information, consult our rotary seal literature, e-mail us, or call us directly with your rotary seal questions at 281-240-6500.
Wide Footprint Seals™ are interchangeable with standard 0.335″ Kalsi Seals, and provide significantly longer life in abrasive service applications. This seal type was originally developed for the high pressure sealing location in oilfield mud motor sealed bearing assemblies. The geometry has been optimized to improve environmental exclusion, and to provide more lip width and radial compression to accommodate wear and compression set, while at the same time assuring efficient hydrodynamic lubrication. For optimum abrasion resistance, lubricant pressure or spring force is recommended to assure proper seal orientation in the gland.

Axially constrained rotary seals provide improved abrasion resistance in near-zero pressure-differential applications, without the need for axial spring preload. This seal type is recommended for applications such as oilfield mud motor pressure-balancing pistons, where the lubricant pressure may fluctuate slightly above or below the environmental pressure during operation.
The improved performance is the result of constraining the seal axially, as shown below, to assure seal orientation in the gland. For ease of assembly, the seal width is initially narrower than the groove, but radial compression causes the seal to expand axially into stabilizing contact with the groove walls. A lubricant-side void provides room for elastomer thermal expansion to prevent over-confinement at high temperature, so that hydrodynamic lubrication is not impaired. Due to thermal expansion considerations, the groove width is slightly wider than the width that is currently recommended for Standard Kalsi Seals™.

High Temperature Kalsi Seals™
We have two categories of seal materials that have a higher operating temperature than HNBR. One option is a composite construction that provides a thin layer of FEPM at the dynamic surface, coupled with an FKM seal body. This combines the good dynamic properties of FEPM with the good compression set resistance of FKM. The other option is an FKM developed to have good dynamic properties while retaining good chemical and compression set resistance.
Standard width seals have been tested up to 392°F (200°C) with the composite construction, and up to 380°F (193°C) with the FKM construction. Axially Constrained Seals™ with a 0.335" radial cross-section have been tested up to 340°F (171°C) with the FKM construction. For available sizes, see the high temperature tables on the axially constrained and standard width catalog web pages.

The Standard Kalsi Seal product line is presently undergoing a transition to an upgraded lip geometry that provides improved lubrication without increasing hydrodynamic pumping related leakage. Only the upgraded geometry is appropriate for High Temperature rotary seals. As tooling is upgraded to the new geometry, the seals will be added to the appropriate High temperature Seal™ tables. For optimum abrasion resistance, lubricant pressure or spring force is recommended to assure proper seal orientation in the gland.

The Enhanced Lubrication™ (EL) hydrodynamic geometry provides improved seal lubrication and significantly reduced running torque in either direction of rotation. Compared to Standard and Wide Footprint seals, these high performance seals accommodate higher differential pressure conditions with much lower viscosity lubricants, and can tolerate higher speeds. Enhanced Lubrication Seals have significantly higher hydrodynamic pumping-related leakage than Standard Kalsi Seals. This seal type was developed for applications such as high pressure hydraulic swivels, oilfield rotating heads/rotating BOP's/RCD's, side feed swivels, and washpipe assemblies, and can also be used as mud seals.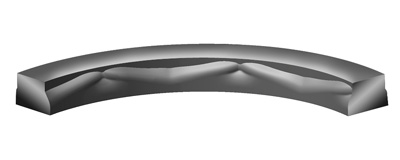 Hybrid seals are elastomer seals that mix enhanced lubrication waves with more conventional waves to temper the hydrodynamic pumping-related leak rate while still providing a torque advantage over our standard shaft seals. This unique shaft sealing solution was originally developed to provide reduced running torque and seal generated heat in oilfield rotary steerable tools.

Plastic Lined Kalsi Seals are a high performance seal design that has a plastic layer at the dynamic interface, and a radially compressed elastomer energizing section. This arrangement provides excellent high pressure extrusion resistance. Seals using the -32 liner have been tested extensively at a PV of 1,900,000 (units of PV are PSI-FPM). Plastic Lined Seals™ require dedicated tooling, and cannot be made in tooling designed for elastomer seals. Removable gland walls are required for smaller diameter Plastic Lined Kalsi Seals. For available material combinations, see the materials page of our seal catalog.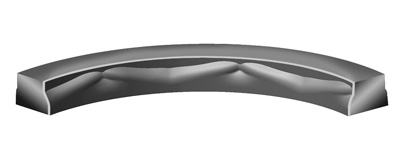 BDRP Rotary Shaft Seals were developed for applications where the pressure of the seal lubricant may be up to 1,500 psi (10.34 MPa) lower than the pressure on the opposite side of the seal. They have the same extreme high pressure sealing capacity as Plastic Lined Kalsi Seals when the differential pressure acts from the wave side. The acronym "BDRP" is based on the ability of the seal to withstand bi-directional rotation and bi-directional pressure. The ability to handle either direction of pressure and significant speed makes the BDRP a good candidate to consider as a hydraulic swivel seal. The ability to accommodate a gravity-type lubricant feed makes the BDRP a good candidate to use as an RCD seal, if a separate barrier seal is used to exclude drilling fluid. When used as an RCD seal, the pressure of the barrier lubricant is balanced to the pressure of the drilling fluid. Call us at 281-240-6500, or e-mail us, for assistance in implementing this unique high pressure oil seal  in your rotary shaft seal assembly.

Dual Durometer Kalsi Seals™
Dual Durometer™ construction provides lower interfacial contact pressure, torque, and heat, compared to single material Kalsi Seals having similar extrusion resistance. The outer part of the seal, which defines the static sealing lip, is made from a relatively soft material to minimize interfacial contact pressure and friction between the seal and the shaft. The inner part of the seal, which defines the dynamic sealing lip, is made from a harder, more extrusion resistant material to bridge higher pressure. Dual Durometer construction can be used with most ungrooved Kalsi Seal geometries, provided that the radial cross-sectional depth is large enough to accept two layers.
By appropriate material selection, a dual durometer rotary seal can be tailored for specific applications. For high pressure applications, the dynamic sealing lip can be made from a harder, more extrusion-resistant material than would otherwise be possible in a solid single durometer seal, while keeping the interfacial contact pressure in a useful range for hydrodynamic lubrication. For moderate pressure applications, the torque and self-generated heat can be minimized while maintaining the necessary extrusion resistance.
For available material combinations, click here. For additional information on Dual Durometer rotary seals, see the Kalsi Seals Handbook™. The as molded diameter of a Dual Durometer Seal™ will depend on the molding shrinkage characteristics of the selected material combination. Dual Durometer Seals™ typically require a wider groove than comparable single material seals; call 281-240-6500 for recommendations.

Kalsi Engineering's KLS® seals are spring-loaded lip seals for rotationally unidirectional applications where the pressure of a non-abrasive process fluid is up to 1,500 psi (10.34 MPa) greater than the pressure of the seal lubricant. Developmental testing was conducted at 1,000 psi (6.89 MPa) with a surface speed of 543 ft/min (2.76 m/s) and 1,500 psi (10.34 MPa) at 136 ft/min (0.69 m/s). The patented hydrodynamic wave geometry allows this unique rotary lip seal to withstand much greater pressure than conventional lip seals. KLS seals are also useful in applications where the pressure of the seal lubricant is the same as the pressure of an abrasive process fluid, such as oilfield drilling fluid.
To effectively seal a high pressure abrasive process fluid, two KLS seals are used: One to exclude the abrasive fluid, and one to retain the pressure. The barrier lubricant between the KLS seals is balanced to the pressure of the pressurized abrasive fluid. Purchase orders and requests for quote for these unique high pressure rotary lip seals can be sent via e-mail, or by fax at 281-240-0255.

Kalsi Engineering's high pressure washpipe packing incorporates patented grease inlets that improve packing life in high pressure, high speed washpipe applications by distributing lubricant to critical portions of the sealing interface during rotation. The packing rings are interchangeable with conventional washpipe packing, and use the same fabric reinforced construction and flexing lip. They are usually installed as rotating seals that engage a stationary washpipe, but are also suitable for use with rotating washipes.

High Film Kalsi Seals incorporate an aggressive hydrodynamic geometry that provides increased film thickness, lower running torque and cooler operation – at the expense of significantly higher lubricant leakage. In some operating conditions, water can even be used as the seal lubricant. When used with oil, the aggressive geometry of this high performance rotary seal can also be used to provide the necessary seal lubrication in ultra-slow speed pressurized equipment. In high speed equipment, the lubricant pumping action of the High Film Seal™ can be used to flush and lubricate a series of lip seals; click here for an example.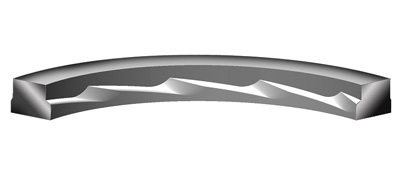 The Filled Kalsi Seal™ features a deep environment-end groove that is filled with and bonded to a soft silicone energizer that significantly reduces interfacial contact pressure, torque and self-generated heat, compared to standard Kalsi-brand rotary shaft seals. The C-shaped construction permits more economical manufacture compared to dual durometer Kalsi Seals, and permits the use of much softer energizing materials because the rotary seal torque is not carried by the energizer. Because filled Kalsi Seals offer increased resistance to compression set and lubricant pressure-induced distortion, they are typically recommended over the older generation Grooved Kalsi Seals. This oil seal type is used in higher-speed dynamic applications such as submersible dredge pumps and oilfield cement pumps. Call for available sizes.

Grooved Kalsi Seals are special purpose rotary shaft oil seals. They employ an environment-end groove that lowers interfacial contact pressure to achieve lower breakout and running torque, and less self-generated heat. Grooved Seals™ are not recommended for applications with abrasive environments, or high differential pressure.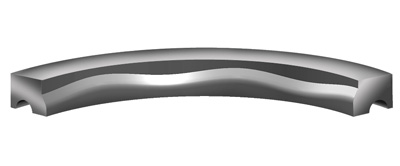 Plastic backup rings are non-rotating oil seals. They are used with O-rings in extreme high pressure rotary sealing to bridge the gap between a floating metal backup ring and the equipment surfaces that locate the metal backup ring axially. In addition to providing enhanced extrusion resistance, these plastic O-ring backup rings also reduce friction, making it easier for the metal backup ring to follow lateral shaft motion. Plastic backup rings provide the same benefits when used with floating seal carriers in high pressure rotary sealing applications. These patented high performance sealing elements are not intended for abrasive exclusion service, and are not intended for use as rotary shaft seals.

Kalsi-brand rotary shaft seals are offered for sale under the terms and conditions of the "Offer of Sale" that is included in the current revision of the Kalsi Seals Handbook.
Contact our staff for additional information and rotary seal sizes
Kalsi Engineering has been a world leader in high pressure seal research and development since 1968. Our patented line of high-performance seals is the state-of-the art in high pressure rotary sealing. We continue to develop new geometries to extend the performance of our product line. Contact Kalsi Engineering to request a quote, or for additional information.