Failure Analysis Services

Kalsi Engineering provides complete analysis, testing, technical reporting, and expert witness testimony services to investigate failures in mechanical equipment and structures. Our clients include equipment manufacturers, equipment users, plants, law firms, and insurance companies. Our extensive experience in root cause analysis and testing, augmented by our in-depth understanding of the design and performance aspects of mechanical equipment, enables us to provide a complete failure analysis service to our clients.
The KEI™ staff takes a disciplined approach in identifying whether a failure is caused by design deficiencies, material defects, operational overloads, abuse, misapplication, inadequate maintenance, or use beyond design life.
We conduct tests in our Houston-area laboratory in which we deliberately take equipment to failure in order to confirm the root cause. In some cases, the objective of a failure analysis is to identify the limiting component so that design modifications can be developed to improve performance and reliability of the equipment.
Services
Kalsi Engineering provides the following failure analysis services:
Inspection of Failed Parts
Confirmation Testing
Failure Analysis due to Fatigue and Overload
Past Projects
Kalsi Engineering has performed a wide variety of failure analyses. A list of key projects is provided.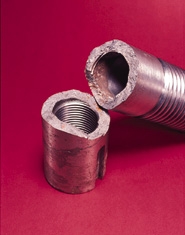 Investigation into the failure of drill pipe tool joints in an offshore drilling application
Failure of several 48-inch pipeline flanges and valves at a crude oil tanker loading terminal due to hydraulic transients
Failure of a combination friction clutch and brake mechanism in a high-speed automatic punch
Investigation of a steam turbine that failed by over-speeding
Failure of a tilting disc check valve to close upon sudden flow reversal causing a reactor scram at a nuclear power plant
Determination of cause of repetitive failures of a feedwater pump impeller shaft
Investigation of multiple swing check valve failures during reduced capacity operation
Cyclic testing to determine fatigue life of electric motor-powered actuators by taking them to failure