Stem Separation Failure in a Double Ported Globe Valve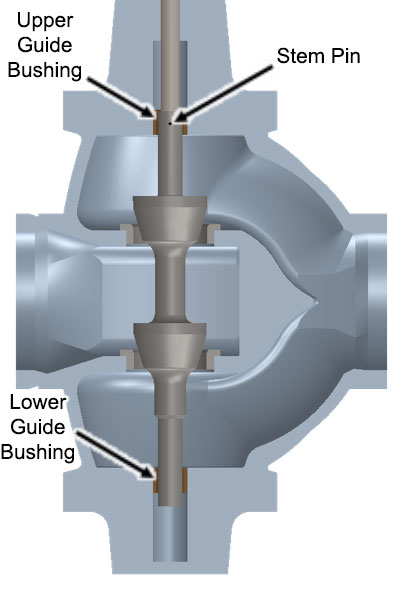 Double port globe valve construction often incorporates upper guide bushings in the bonnet, a lower guide bushings in the bottom flange, and a stem-to-plug connection as shown in Figure 1. A U.S. power plant utilized double port globe valves as the normal level flow control valves for the intermediate-pressure heaters. The double ported globe valves were operated by diaphragm actuators and configured spring-to-close.
During plant operation, one of the double ported globe valves failed into the closed position and did not respond to plant control signal to maintain a normal level. Inspection of the valve revealed the plug assembly separated from the stem, preventing the actuator from operating the valve. Further inspection revealed the stem threads were highly worn and the stem-pin was broken.
KEI™ performed a root-cause analysis of the stem connection failure. Continuous valve cycling caused excessive plug and bushing wear. The valve cycling was partly due to valve/system interaction.
KEI performed transient-flow CFD analyses to calculate the time-dependent forces acting on the plug and then calculated the bushing and stem wear.
The wear calculations corroborated well with the observed plug/bushing wear. KEI concluded that the low hardness and wear properties of the bushing material and system-induced fluid forces resulted in accelerated wear of the bushing. The wear was further accelerated due to both high impact loads between the stem and bushing and increased clearance which resulted in the stem connection failure.
KEI recommended options for harder and more wear resistant bushing materials would significantly increase the valve life.