Spindle Failure due to Hydraulic-Actuator Cycling
Kalsi Engineering Inc performed a root-cause investigation on two Main Stem Isolation Valves (MSIV) that experienced unanticipated spindle loading. The MSIVs were a swing-check style valve operated by a hydraulic actuator. An H-link and pin connected the actuator spindle to the tail-link/disc.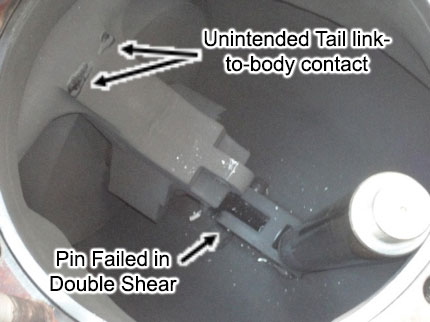 The unanticipated loading caused complete stem separation in one of the MSIVs (see Figure 1) and partial failure of the spindle in the second MSIV (Figure 2). The spindle separation in the first MSIV was due to H-link pin failure caused by high shear forces. The H-link pin and spindle failures were initially thought to have different root-causes.
Inspection of the MSIV revealed that improper contact between the disc/tail link and body was present when the hydraulic actuator held the valve full open. The contact between the tail link and body prevented the spindle from loading properly against the backstop; for this reason, the full actuator force transmitted to the pins, H-link, and tail link. Daily changes in ambient temperature caused variations in the actuator thrust and caused stress cycles in the damaged components.
KEI™ utilized Finite Element Analysis (FEA) and determined that the line-of-action through the spindle varied enough that the resulting stress in the fillet between the large and small diameter sections differed considerably.
In the first MSIV, the stress in the fillet was high and caused the pinhole in the spindle to sever partially, shortly after valve installation. The partial spindle failure allowed the spindle to move up against the backstop and allowed the actuator thrust to react against the backstop instead of through the H-link and pins.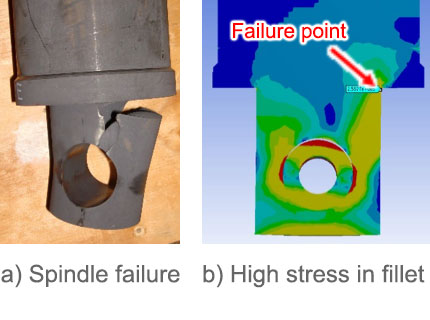 In the second MSIV, the line-of-action resulted in lower stress in the fillet and did not cause the partial failure of the spindle. Since the spindle did not partially fail and move against the backstop, the actuator thrust transmitted to the H-link pin. The long exposure to the actuator force provided the means for high bearing-load-induced fatigue of the H-link pin. Inspection of the H-link pin confirmed fatigue failure due to high load, low cycle fatigue (see Figure 2).
Contact us today to learn more about spindle failure due to hydraulic actuator cycling and how we can help you.