Kalsi Seals Handbook™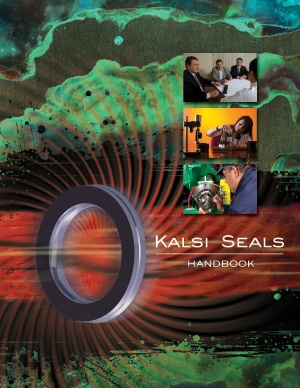 Seals and sealing technical data, implementation guidelines, & more.
Search the handbook
The Kalsi Seals Handbook includes rotary seal implementation and troubleshooting guidelines, with a special emphasis on oilfield seals and sealing applications.  It represents the collective wisdom of our senior staff members, who have many decades of experience in solving seal implementation challenges.  As such, it is an invaluable reference manual for existing customers, and for individuals who are interested in using our rotary seals.
The handbook is based on individually revisable chapters, which are hyperlinked below.  This format facilitates periodic updating, and avoids unmanageably large file sizes.  We recommend that you use the handbook directly from the website, so that you can always be sure of referencing the most up to date rotary sealing information. For a list of seal styles and sizes, see our shaft seal catalog.
Contact us to know more information about our handbook.
Disclaimer
USE THE LITERATURE ENTIRELY AT YOUR OWN RISK. THE LITERATURE IS PROVIDED "AS IS", "WITH ALL FAULTS". KALSI ENGINEERING MAKES NO WARRANTY, EXPRESS, OR IMPLIED REGARDING THE LITERATURE, INCLUDING BUT NOT LIMITED TO WARRANTIES OF MERCHANTABILITY, PERFORMANCE, AND FITNESS FOR A PARTICULAR USE OR PURPOSE. KALSI ENGINEERING (INCLUDING ITS AGENTS AND EMPLOYEES) ASSUMES NO LIABILITY WHATSOEVER FOR ANY LOSS OR DAMAGE OF ANY KIND OR NATURE THAT MAY RESULT FROM THE USE OF, REFERENCE TO OR RELIANCE ON THE LITERATURE, INCLUDING BUT NOT LIMITED TO CONSEQUENTIAL, SPECIAL (INCLUDING LOSS OF PROFIT), DIRECT, INDIRECT, INCIDENTAL OR SIMILAR DAMAGES, EVEN IF KALSI ENGINEERING HAS BEEN ADVISED OF THE POSSIBILITY OF SUCH DAMAGES.