Kalsi Engineering Rotary Shaft Oil Seals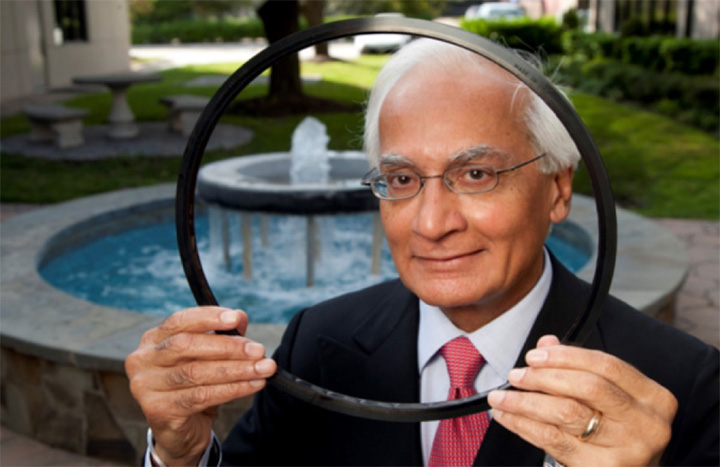 Introduction to Kalsi Seal technology
Kalsi Seals® are proprietary hydrodynamically lubricated rotary shaft seals for oil retention service. Our product line includes a range of seal geometries for various operating conditions ranging from high oil pressure to high environment pressure, and from clean to contaminant-laden environments.
Kalsi Seals feature hydrodynamic waves that engage the shaft and use rotational velocity to pump a film of oil into the dynamic interface between the seal and the shaft. The seal hydroplanes on this oil film, which dramatically reduces friction, wear, and seal-generated heat compared to conventional rotary shaft oil seals. As described in this video, hydroplaning allows the use of relatively wide sealing lips that provide strength to resist differential pressure and larger shaft to housing clearances. Lip width also provides sacrificial material to address axially acting damage mechanisms such as pressure-induced extrusion damage and third-body abrasive seal wear.
The hydrodynamic pumping action of the waves causes oil leakage that varies with wave design. The rate of leakage increases with increased shaft speed and oil viscosity and decreases with increasing differential pressure. In some machinery, such as hydraulic swivels, this intentional hydrodynamic pumping related leakage is easily accommodated by normal circulation of hydraulic oil from the reservoir that supplies the hydraulic pump. In other types of equipment, such as oilfield sealed bearing mud motor assemblies used to drill oil wells, a dedicated oil reservoir is provided. Depending on the type of seal being used and the service conditions, the oil reservoir may be pressurized or vented to atmosphere. Contact our engineers for help with selecting the most appropriate shaft oil seal for your application, and for implementation assistance. Seal selection and implementation guidelines are also provided in our online seal handbook.
Shaft seals for retaining pressure acting from the oil side
Our rotary shaft oil seals are available in a range of lip widths, wave types, and materials that influence performance. As a general guideline, and assuming adequate lubrication, wider lips and higher modulus liner materials provide more resistance to high oil pressure. At the same time, wider lips and higher modulus liner materials require more aggressive hydrodynamic waves to assure adequate lubrication in high differential pressure conditions. Wider lips tend to have higher breakout and running torque and more aggressive waves may have higher hydrodynamic pumping related leakage. High pressure oil seals can be paired with partitioning seals to retain high pressure non-lubricating liquids if pressurized oil is provided between the seals, as shown in the figure below.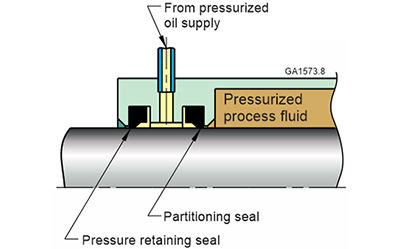 Plastic Lined Seals — Our highest-pressure rotary shaft oil seals have a high modulus extrusion resistant plastic liner and a full complement of Enhanced Lubrication Waves. They are designed for retention of high-pressure oil and should not be used as partitioning seals.
When used with a floating metal backup ring to minimize extrusion gap clearance, the widest version of our plastic lined seals survived 320-hour and 368 hour tests at 141.4 to 206.2 sfpm (0.72 to 1.05 m/s) with an ISO 68 viscosity grade oil at 9,500 to 10,000 psi (65.50 to 68.95 MPa). A 10,000 psi screening test of the widest plastic lined seal design was also performed with an ISO 48 viscosity grade oil at 23.6 to 141.4 sfpm (0.12 to 0.72 m/s).
The narrowest version of our plastic lined seals survived a 1,000-hour test at 240 sfpm (1.22 m/s) with an ISO 150 viscosity grade oil at 7,500 to 7,800 psi (51.71 to 53.78 MPa). In this test, a pair of 2.75" (69.85mm) seals were supported by radially pressure balanced metal backup rings and ran on a floating washpipe. Click here, here, here, and here to read about 2,300 psi (15.85 MPa) testing of 10.49"(266.45mm) plastic lined rotary shaft oil seals at 2,300 psi in conventional non-floating seal housings. Additional information is available in Chapter C16 of our handbook. Click here for tables of available sizes. Additional sizes can be made, subject to a one-time tooling charge.  
Dual Durometer Seals — Dual durometer rotary shaft oil seals combine two different elastomers, so that a harder more extrusion resistant inner layer is loaded against the shaft by a softer and much thicker outer layer. This construction method places the harder liner material at the extrusion gap between the shaft and the seal housing. This provides added extrusion resistance compared to single durometer seals. Typically, dual durometer seals are not recommended for partitioning bearing oil from highly abrasive process fluids unless the pressure of the oil will always be greater than the pressure of the process fluid.
Dual durometer rotary shaft oil seals are available in a range of lip widths, materials, and wave types, with wider lips and more aggressive wave types providing the best high-pressure performance. In our most severe dual durometer seal test, a pair of 2.75" (69.85mm) Extra Wide Enhanced Lubrication Seals were tested at 252 ft/minute (1.28 m/s) and 5,000 psi (34.47 MPa) for 40 days. The seals were supported by floating metal backup rings and exposed to 0.010" (0.25mm) dynamic runout at 350 rpm.
Dual Durometer construction can be applied to various direct compression-type rotary shaft oil seal geometries, including Standard Kalsi Seals, Wide Footprint Seals, Enhanced Lubrication Seals, and Hybrid Seals. Call 281-240-6500 for selection and implementation assistance or send your questions to us by contact form or e-mail.
Single Durometer Seals — Many Kalsi-brand rotary shaft oil seals are manufactured from a single elastomer for applications that partition bearing oil from an abrasive liquid environment. As shown by the figure above, arrangements are possible where a single durometer seal partitions a high pressure non-lubricating liquid from oil that is substantially balanced to the pressure of the non-lubricating fluid, and a dual durometer seal or a plastic lined seal retains the high pressure oil.
As with other Kalsi Seals, the widest dynamic lips of single durometer rotary shaft oil seals require more aggressive wave forms to assure sufficient interfacial lubrication. Our experienced engineers can help you select the most appropriate single material seal for your application. For example, seals with our "extra wide" lip have been developed that lubricate adequately with the higher viscosity lubricants used in oilfield sealed bearing assemblies, yet have an oil leakage rate that is compatible with the small oil reservoirs that are used in such assemblies.
Click here to read about testing single durometer seals with a "super-wide" lip width for partitioning drilling fluid from oil. When used to partition oil from a contaminated environment, most of our single durometer rotary shaft oil seals require oil pressure or axial spring loading to ensure circularity. One type, the ACS seal, does not. Instead, the body of the ACS seal contacts both groove walls to maintain circularity.
Shaft seals for retaining oil pressure acting from either side
BDRP Seals — BDRP seals™  are a variation of our plastic lined rotary shaft oil seals that can handle high oil pressure acting from either side of the seal with either clockwise our counter-clockwise rotation. When differential pressure acts from the wave side of the dynamic lip, BDRP seals have the same extreme high-pressure capacity as the Extra Wide Plastic Lined Kalsi Seals described above. With differential pressure acting from the opposite side of the lip and both sides exposed to oil, BDRP seals have been tested at 1,500 psi (10.34 MPa) and 275 sfpm (1.39 m/s) and  have been tested at 1,000 psi (6.89 MPa) at 467 sfpm (2.37 m/s).
The ability of BDRP seals to withstand high pressure acting from the non-wave side of the lip means that they can be used with an unpressurized lubricant supply in difficult applications such as oilfield rotary control devices (RCDs). Contact our staff to discuss implementation of BDRP seals in RCDs and other applications.
Shaft seals for retaining pressure acting from the non-lubricant side
KLS Lip Seals — KLS® seals  are spring-loaded lip-type rotary shaft oil seals that incorporate patented hydrodynamic waves that provide oil film lubrication of the dynamic sealing interface during rotation.  This lubrication allows KLS seals to operate at much higher pressures than conventional lip seals. The waves are designed for either clockwise or counterclockwise rotation. KLS seals have been tested with 1,000 psi (6.89 MPa) and 543 sfpm (2.76 m/s) and with 1,500 psi (10.34 MPa) and 136 sfpm (0.69 m/s).
Based on separate effects testing, we recommend that KLS seals be used in pairs to retain abrasive fluids, with the pressure of the oil between the seals balanced to the pressure of the abrasive fluid. This mounting arrangement isolates the outboard seal from high differential pressure and isolates the inboard seal from abrasives. This mounting arrangement is described in more detail in Chapter E6 of our seal handbook. Contact us to discuss how to implement these high-performance lip seals in your rotating equipment.
Contact our seal engineers for additional information
Our state-of-the-art high pressure rotary shaft oil seals are the result of our longstanding commitment to continual seal research and development. Contact our seal engineers to review and discuss your application.