Plastic Lined™ High Pressure Rotary Seals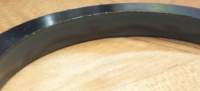 Higher differential pressure, lower breakout torque
Plastic Lined Enhanced Lubrication Seals™ have a low friction, high modulus layer of plastic at the dynamic surface, and an elastomer energizing section that forms the seal body. Compression of the elastomer body loads the plastic surface against the shaft. This construction method positions the highly extrusion resistant plastic material at the housing-to-shaft extrusion gap, for increased resistance to high differential pressure. The plastic layer has a lower coefficient of friction than elastomers, which minimizes breakout torque and helps to assure that the seal does not rotate in the seal groove.
As with other Kalsi Seals, Plastic Lined Seals™ rely on hydrodynamic interfacial lubrication to minimize adhesive wear of the seal and shaft surfaces. The technological breakthrough that makes plastic lined seals possible is the Enhanced Lubrication™ wave geometry, which has the required level of hydrodynamic effectiveness to lubricate high modulus plastics in extreme high differential pressure sealing conditions.
High pressure test results with Extra Wide Plastic Lined Seals™
Extra Wide Plastic Lined™ seals were in excellent condition after 1,000-hour duration testing at 7,500 to 7,800 psi (51.71 to 53.78 MPa) in 115 to 130°F (46.11 to 54.44°C) service conditions simulating a 4.875" (123.83mm) washpipe rotating at 200 rpm. These high-pressure seals, PN 682-5-303, have also performed well in 300-hour duration testing at 3,000 psi (20.68 MPa) with 0.010" (0.25mm) dynamic runout in 200°F service conditions simulating a 10.375" (263.53mm) RCD mandrel rotating at 200 rpm. These tests used an ISO 150 viscosity grade lubricant and were conducted with our patented floating backup ring arrangement, which minimizes clearance at the high pressure extrusion gap. In each test, the extrusion gap defined by the backup ring was designed to be appropriate for the sealing diameter of the targeted application. Successful 4,000 psi tests have been conducted in washpipe service conditions with lubricant viscosities as low as ISO 32 viscosity grade.
High pressure test results with Extra Wide Plus Plastic Lined Seals™
A pair of Extra Wide Plus Plastic Lined seals were in very good condition after being tested for 125 hours with a differential pressure of 9,800 psi (67.57 Mpa) on a 4.500" (114.3mm) shaft rotating at 120 RPM. The rotary seals, PN 749-1-303, were installed in floating backup rings and used a pressurized ISO 68 viscosity grade seal lubricant maintained at 120°F (48.89°C). The Extra Wide Plus Kalsi Seal™ provides another high-pressure seal option for equipment designers to achieve long rotary seal life while operating at extreme pressure and speed combinations.
High pressure test results with Super Wide Plastic Lined Seals™
A 4.500" (114.3mm) PN 750-1-318 Super Wide Plastic Lined Seal™ was in good condition after 368-hours of operation at 10,000 psi (68.95 MPa) in a floating backup ring. This high pressure rotary shaft seal test included 38 hours at 175 rpm, 165 hours at 150 rpm, and 165 hours at 120 rpm, and was conducted with an ISO 68 viscosity grade lubricant. The bulk temperature near the rotary shaft seal was approximately 115°F at 175 rpm, 110°F at 150 rpm, and 103°F at 120 rpm. A similar test was conducted with a pair of PN 750-1-318 seals for 320 hours at 120 rpm and 9,500 to 9,800 psi (65.50 to 67.57 MPa).

Consider Plastic Lined Kalsi Seals™ for high pressure swivels and oilfield RCDs
Test results suggest that plastic lined seals are appropriate for use as pressure-retaining seals in difficult applications, such as high pressure hydraulic swivels, high pressure side entry swivels, and oilfield RCDs with lubricant overpressure. RCDs will also benefit from the low breakout torque afforded by plastic lined seals. For information on how to implement plastic lined seals with floating backup rings, see the Kalsi Seals Handbook™, and call us at 281-240-6500. For available off-the-shelf sizes of plastic lined seals, see our shaft seal catalog.
Contact us today to learn more about our Plastic Lined High Pressure Rotary Seals™.
Kalsi-brand rotary shaft seals are offered for sale under the terms and conditions of the "Offer of Sale" that is included in the current revision of the Kalsi Seals Handbook.