Kalsi Engineering Introduction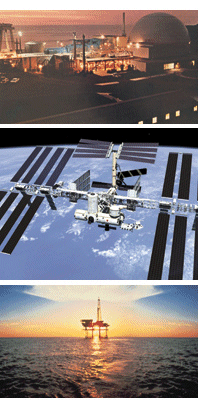 Consulting Engineering Services
Kalsi Engineering, Inc., a high technology firm, was founded in 1978 to provide consulting engineering services in the areas of research and development, design, analysis, and testing of mechanical equipment and structures. Our facilities are located in Sugar Land, Texas, approximately 17 miles from downtown Houston and easily accessible from the airports. Click here for a map. Our staff has an outstanding background and record of accomplishments in developing practical and cost effective solutions to mechanical engineering problems in a wide range of applications in the power generation, oil field, petrochemical, aerospace, defense, manufacturing, and mining industries.
Our organization is recognized worldwide for our technical excellence and development of innovative products. The numerous industry milestones, guidelines, technical publications, new products, and patents that have resulted from our work continue to provide long-term benefits to our clients.
Core Capabilities & Services
Valve, actuator, and software training
Our Clients
Kalsi Engineering has a diversified client base that includes equipment manufacturers, oilfield service companies, petrochemical plants, nuclear power plants, aerospace engineering companies, architect/engineers, industry research organizations, and government agencies. In addition to serving individual clients, we have successfully completed many multiple-client and joint-industry group-sponsored projects.
Our Products
In addition to providing consulting engineering services, Kalsi Engineering offers rotary seal and software product lines that were originally developed to solve difficult problems associated with energy production.
Our patented rotary seals are the result of our pioneering research in hydrodynamic lubrication. During rotation, these products hydroplane on a lubricant film that significantly reduces friction, allowing higher pressure and speed combinations, and providing longer life. The rotary seals were developed for highly abrasive oilfield drilling applications, and have facilitated a number of oilfield equipment innovations.
Our suite of engineering software began with JarPro™ jarring analysis software, which is used to reduce the costs associated with a stuck drillstring by optimizing jarring tool placement. KVAP™, CVAP™ and LiFE™ are state-of-the art software applications that are widely used to evaluate critical valve and actuator issues in nuclear power plants.