KLS High Pressure Lip Seals
What is a KLS lip seal?
KLS® spring-loaded lip seals are polymeric lip seals for applications having unidirectional rotation. They have a composite body construction consisting of rubber and extrusion resistant plastic. The seals were designed and successfully tested for service conditions where the pressure acting from the spring side of the seal is up to 1,500 psi (10.34 MPa) higher than the pressure of the seal lubricant. Qualification testing was performed at 1,000 psi (6.89 MPa) with a surface speed of 543 feet per minute (2.76 m/s), and at 1,500 psi (10.34 MPa) with a surface speed of 136 feet per minute (0.69 m/s). Conventional PTFE lip seals without the unique hydrodynamic waves failed in only a few hours with only 500 psi (3.45 MPa) differential pressure.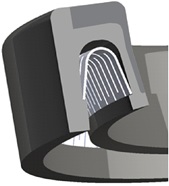 How does a KLS lip seal work?
The high-pressure performance of the KLS seal is remarkable for a spring-loaded lip seal, and well beyond the capability of a conventional PTFE lip seal. This high-pressure seal performance is the result of hydrodynamic lubrication of the extrusion resistant plastic portion of the seal. This lubrication provided by a patented wave geometry on the low-pressure side of the seal. As rotation occurs, this geometry wedges a film of lubricant between the shaft and the plastic dynamic surfaces.

How to implement KLS lip seals
When KLS lip seals are used to retain a pressurized non-abrasive fluid, only one seal is required, and the seal lubricant can be supplied from a simple unpressurized gravity fed lubricator. For example, if the seal is located below the bearings, the seal can simply utilize the bearing lubricant to lubricate the dynamic sealing interface. The need for the pressure of the seal lubricant to be greater than or equal to the pressure of the environment is eliminated. When KLS lip seals are used to retain an abrasive pressurized fluid, two seals are recommended. See our shaft seal handbook for details.
For additional information about KLS lip seals and their implementation, contact our engineering team.

Ordering KLS lip seals
Purchase orders and quote requests for KLS lip seals should be sent to the attention of Seal Sales via e-mail, or by fax at 281-240-0255. To see available seals by size, see the shaft seal catalog portion of our website. Additional sizes of KLS lip seals can be provided, subject to a one-time tooling charge to help to defray associated engineering, machining and set-up expenses.