When Kalsi Engineering Vice President Daniel Alvarez transitioned to part-time employment on March 17, 2017 after 37 years of service, one of his goals was to have more time for community service — and especially medical mission work. By April 22, 2017, he was in the Grano De Oro region of Costa Rica, participating in a medical mission to an indigenous tribe in Costa Rica, the Cabecar Indians, and some local residents of Grano De Oro. His role as Logistics Manager for that expedition means that he had already been working on logistics during his evenings and weekends, while still working full time at Kalsi Engineering.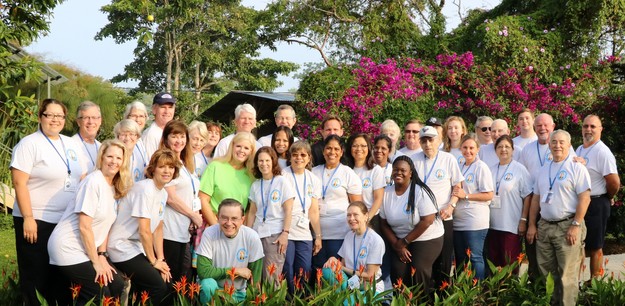 The Costa Rica mission was organized by the Medical Missionaries of Divine Mercy (MMDM), St. Laurence Parish, Archdiocese of Galveston-Houston, and provided free services to a combined total of 829 individuals at a multi-day health fair. The Cabecar Indians are impoverished, and many of the patients had never received medical services of any kind before. Many of them walked or rode horseback for hours or days to reach the health fair. The range of services included medical, pharmaceutical, dental, vision, audiology, physical therapy, and chiropractic. The Costa Rica Ministry of Health provided pharmaceutical services, and also provided some additional doctors, dentists, and hygienists to supplement the MMDM team. The medical team had over 800 patients, the dental team had 235 patients, and the vision team had 428 patients. A rolling slide show will highlight the Costa Rica mission on the evening of October 1, 2017 at the Parish Hall, 3100 Sweetwater Blvd, Sugar land, Texas, 77479. There will also be a flu shot clinic.
Kalsi Engineering is proud that Daniel, as Logistics Manager, played an important role in making the mission successful. In addition to volunteering his stateside time on behalf of the mission, Daniel used his vacation time to participate in the mission trip, paying his own way. In honor of Daniel's commitment, Kalsi Engineering provided MMDM with financial support for the Costa Rica mission.
After the mission, MMDM asked Daniel to write something about his involvement for their newsletter. He wrote, "Although I have been involved in missionary work only during the last 6 years, missionary work has been in my mind since my teen years when I used to attentively read about the Peace Corps. Helping others has always fulfilled me because I am using the gifts that God has endowed me with. The magnitude of such a reward becomes even more profound when you see and feel how others live their humble lives.
The desire to join the Medical Missionaries of Divine Mercy (MMDM) first began when I joined St. Laurence in 2006 and they were looking for volunteers for the trip to Tamasopo, Mexico. I knew could help because I can speak fluent Spanish and being able to communicate is such an important aspect of providing nurturing care. However, it wasn't until 2011 when I finally responded to the Call, but by that time, the Mission had shifted to Laredo, Texas. Since joining MMDM I have been able to assist in several ways, even though I don't have any medical training or experience, as I am an engineer by profession. When the trip to Costa Rica was first announced in 2013, I again felt the urge to go, but I didn't respond until this year (2017).
The trip to Costa Rica to serve the locals and the Cabecar people taught me much about how differently others live, yet how much alike we are as God's children. I was especially moved by the determination and patience of those who traveled for hours by foot and horse to get the most basic of services that we often take for granted. Seeing them wait for hours to be seen by the medical staff moved me to skip my lunch break because I knew they weren't eating, and I just couldn't leave them there until I returned satiated. God willing, I will return year-after-year and hopefully encourage others to follow."
Daniel Alvarez has also been serving in the medical mission to Laredo Texas since 2011. That medical mission works with the Dioceses of Laredo and sets up for the mission at San Luis Rey Church. The Laredo mission serves over 1400 patients each year and all the treatments and medications are paid by the Medical Missionaries of Divine Mercy using donations provided by generous and caring people. Each missionary pays his own way to each mission site to optimize the use of the donations. Kalsi Engineering, Inc. has been a sponsor of the missions for 5 years.