High Performance Washpipe Packing
Developed for Higher Speeds and Pressures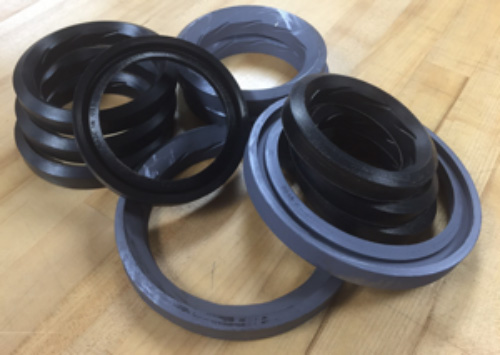 Kalsi-brand high-performance washpipe packing was developed for the higher speed and pressure encountered in current oilfield drilling. The patented hydrodynamic inlets provide cooler operation and longer life by introducing lubricant into the dynamic sealing interface during rotation. This translates to less downtime, and fewer messes to clean up in higher pressure service conditions.
This high-performance packing is interchangeable with regular oilfield packing, and uses the same fabric reinforced elastomer construction. It is currently available in four popular sizes. Click here for a list of available sizes, and click here for ordering information. Additional sizes can be manufactured upon request. Depending on the size of the initial order, new sizes may require a one-time tooling charge.
To address more severe pressures and speeds, and for more reliability than any packing can provide, consider using the Kalsi-designed washpipe assembly, which combines several different sealing technologies to provide extreme high pressure sealing capability.
Normal Direction of Rotation
Kalsi-brand high-performance packing incorporates waves that only provide interfacial lubrication in one direction of rotation. Because the packing rings were developed for oilfield top drives and power swivels, they are normally provided with waves for the direction of drillstring rotation that occurs during high pressure operation, as shown by the image below.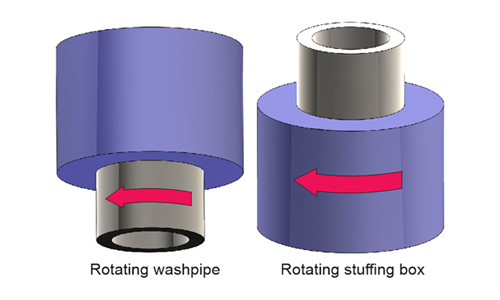 Washpipe Assembly Instructions
Before stacking the packing rings with the packing spacers, hand pack the grooves of the packing rings.
Before inserting the washpipe into the packing rings:
Clean and grease the outside of the washpipe.
Liberally grease the inside of the packing ring stack.
After installing the washpipe assembly on the top drive, thoroughly grease the assembly.